Open May 20th, 2021 – October 11,2021
Thursday thru Sunday only
12:00 noon – 6:00 pm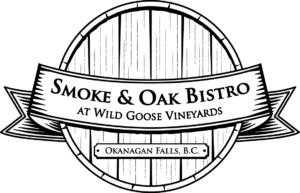 Southern "Okanagan" BBQ in the heart of the Valley!
Taking our cue from true Southern US Style BBQ, visit us at the Smoke & Oak Bistro to dig into some amazing salads, burgers, sandwiches and meats from the Smoker. Take out is available or you can enjoy the vineyard views on the self service deck with seating that is first come first served, reservations are not being taken at this time. The Wild Goose Bistro team believes in using local products and flavours in new ways to bring the world of BBQ cuisine to Okanagan Falls.
Take a culinary trip around the world with a menu inspired by the fiery heat of South American and the smoke flavours of the Southern USA, all tied together through the freshness of local ingredients. Vineyard cuttings and wine barrels are used to smoke our meats in an authentic competition worthy smoker, imported directly from Tennessee.
At Smoke & Oak we create food for everyone, whether it is hearty and filling or light and savoury. Come join us in a fun, family friendly BBQ environment.
Wheelchair accessible
Self serve dining
First come first seated
Wine, beer, cider and non-alcoholic beverages available
Take Out available